MAPLE

CITY

CHAPEL
A CHURCH SERVING GOSHEN, IN
JOIN US SUNDAY
2015 Lincolnway East, Goshen, IN
We meet every Sunday in-person and online. We'd love to get to know you! Join us for our next service.
9:00AM & 10:45AM
Sunday Morning
OUR

STORY
Maple City Chapel started in 1971 with a need, a God-sized dream, and a leap of faith. We started, not as a church, but as Teen Haven – an outreach to youth in Goshen who didn't know Jesus. As these young people accepted Christ, they had a difficult time finding acceptance in local churches. Their appearance or background made it hard for them to fit in. Maple City Chapel was birthed so that people who had difficulty finding acceptance could find a place to belong and become more like Jesus. That heart and vision for all ages is what still drives us to this day.
NEW

HERE?
If you're looking for a church home online or in-person, you'll love Maple City Chapel. We'd love to connect and send you some more details of what to expect.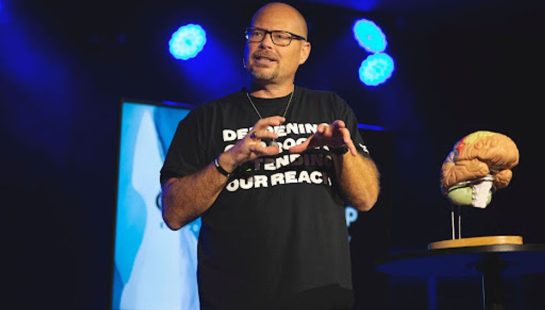 EXPERIENCE A MESSAGE
We'd love for you to check us out. We know God has a transforming message for your life. Watch a previous sermon, or join us in person or online this Sunday.
KIDS & STUDENTS
We want to partner with you in raising up kids and teens who have a deep relationship with God. Our Kids Ministry is available for newborns-6th grade every Sunday morning during our services. Our small and large group environments are intentionally packed with fun activities, singing, and biblical teaching that will keep your child excited to come back every week! Students in 7-12th grade have their own gathering on Wednesday evenings. They will encounter leaders and peers who love Jesus and want to support each other as they become more like Jesus.
FAQ
We'd love to answer your questions!
Clothes. That's our only request. We are much more concerned about what's going on inside of a person, than the outside. While most of our pastors and staff are usually in jeans, you are welcome to wear your Sunday best if that's how you feel comfortable!
Having church in an old Wal-Mart building has its advantages, and parking is one of them! We have plenty of parking directly out front of the church, but also a little on the south side of the building if it gets tight.
We sure hope not. A life connected to Jesus should be fulfilling and rewarding. We strategically plan weekend gatherings to engage your heart, mind, and soul. We use music, video, relevant teaching, and other experiential elements to help you know God in a meaningful way.
Yes! Our Kids Ministry provides an interactive and fun learning environment for your children to grow and flourish. With our trained and checked leaders investing in your kids every Sunday, you can enjoy the weekend service with the comfort of knowing your children are well taken care of!
We sing a variety of contemporary and established songs each weekend. Everything from Chris Tomlin, Hillsong, and Bethel to Keith Green, Isaac Watts, and other classic hymn writers is on the table. Nothing is off limits as long as it brings praise to Jesus!
I AM ___________. CAN I STILL COME?
No matter what you want to fill in that blank with, the answer is YES!
We aim to be a welcoming community that gets to know you and helps you encounter God in new ways.
HOW CAN I GET HELP AND PRAYER?
We have a variety of different ways we can help with spiritual, financial, physical, and emotional needs. We want you to be holistically holy and whole. Check out what we offer and how to get in touch for prayer.
WHAT ARE YOUR OFFICE HOURS?
Our Church office is open Monday-Thursday from 9am-4pm.