ABOUT

MAPLE

CITY

STUDENTS
Our goal is to experience God, grow in faith, and love others.
Here at Maple City, we love students and we gather every Wednesday at 7:07pm! We know the 7th to 12th grade years can be challenging and we want to be a place where students feel completely welcomed and supported. A place where they love to come and are encouraged to grow in their relationship with Jesus.
CONGRATS

CLASS

OF

2022!
We're so proud of our seniors! Scroll left on the photos below to learn more about them.
Amy Smith
Daughter of Thomas & Charlene Smith
School: Goshen Community Schools
Fun Fact: I love to sing, and play music
Activities: Choir, orchestra
Future Plans: I plan to take a gap year then attend ball state
Open House: June 4, 3:00 – 6:00pm at 66973 US HWY 33, Goshen Indiana 46526.
Personal Message: Thank you all for guiding me through the hardship and celebrating the wins I've had through high school.
Anna Kramer
Daughter of Dan & Stephanie Kramer
School: Homeschool
Fun Fact: I live in Haiti.  I have been to the Pacific and Atlantic Ocean, Mount Rushmore, and the Grand Canyon. I like the Jurassic Park and Jurassic World movies.
Activities: American Heritage Girls & Homeschool co-op
Future Plans: I will be going to Bethany Global University in Minnesota, pursuing a BA in Intercultural Ministry Studies and Bible and Theology.
Personal Message: Thank you all so much for encouraging me on this journey called life! Jesus is leading me and He is leading you as well, even when it may not seem like it. Thank you Dorothy and Brenda for being great coaches, for caring and loving all of your girls. To my small group, don't forget to follow the One who is always with you. And to all you people out there, follow the King and worship Him with all your hearts. Thank you for being my friends and church family!
Anna Ryman
Daughter of Tim & Chris Ryman
School: Middlebury (Northridge) Schools
Fun Fact: I have played soccer for most of my life on both my school team and  travel team. I enjoy spending time with my family and hanging out with friends. I also love going out for coffee, shopping, and doing some baking.
Activities: Soccer, Track and Field, National Honor Society, Student Council, Student Leadership Team, Sunday School Teacher, Kids Worship Leader
Future Plans: I am planning on attending Indiana Wesleyan University in the fall where I will be studying nursing or pre-med with hopes of later going to Nurse Practitioner or Medical School.
Open House: June 12th, 2:00 – 5:00pm at 57061 County Road 19, Goshen
Personal Message: I have attended Maple City my whole life so it has played a vital role in my faith journey. The endless hours spent in Sunday school, along with the amazing youth group has been phenomenal. I have truly built lifelong friendships because of this church. I am so grateful for everyone who has invested their time into my life. It has shaped who I am today!
Carson Bontreger
Son of Norm & Judi Bontreger
School: Fairfield Community Schools
Fun Fact: I can write with both of my hands, but I'm not ambidextrous.
Activities: 6 Years of Youth Group, 5 Seasons of Marching Band, 3 Seasons of Show Choir, 3 Seasons of Winter Percussion, 1 Musical
Future Plans: I plan to accept an offer as a CI Engineer at Jayco and work after graduation. I also plan to accept a position at Jimtown High School to co-direct the front ensemble of the Marching Band. I will be going to Philly for our Mission Trip.
Open House: June 4th, 12:00 – 3:00pm 14193 CR 36 Goshen 46528
Personal Message: Make an impact to the ones who look up to you, they are the future and you have an opportunity to help them grow in a way that glorifies God. No one is too young to make an impact.
Carter Bontrager
Son of Ron and Audrey
School: Clinton Christian School
Fun Fact: I think snowboarding is a must in the winter. I like horse riding and bonfires in the summer.
Activities: Basketball
Future Plans: I will be attending Lincoln Collage of Technology in Indianapolis and I will be studying Welding Technology.
Personal Message: Thank you to the leaders for being so approachable and easy to connect with. I enjoy the connectedness that is encouraged by student leaders.
Dominica "Nikki" Brito
Daughter of Joel & Teresa Brito
School: Fairfield Community Schools
Fun Fact: A fun fact is that I won second place in a Robotics Club competition by myself against several teams of boys; I as the only girl. I like to dance, especially to Just Dance series. I enjoy online gaming with friends. In my free time I also enjoy nature walks and photography of nature.
Activities: Tennis, yearbook editor, E-sports, Key Club, Robotics Summer Club, Gymnastics, Art, Jazz/Tap/Ballet, Soccer, Swimming, Baseball, violin, Drama Summer Club,
Future Plans: My future plans are to complete my Computer Science degree at Ivy Tech and then achieve my bachelor's degree in Computer Science at Purdue Fort Wayne to become a computer software engineer. I also hope to get a business degree as a minor.  I would like to pursue an IT internship soon after receiving my degree from Ivy Tech in Computer Science.
Open House: June 19th, 2:30-5:30pm at Maple City Chapel
Personal Message: I want to give a special shout out to Brenda, Dorothy, and Justin for being the greatest Youth Group Leaders that have blessed me and made me feel welcome. My advice for underclassmen is to get involved in the youth group activities and church activities; they have helped me grow spiritually with my walk with God. Thank you everyone that contributed to make the youth group a successful program.
Eli Hochstedler
Son of Kendall and Karen Hochstedler
School: Goshen Community Schools
Fun Fact: I enjoy working on cars, being outdoors, and playing sports
Activities: Four year track member, ski club, club hockey
Future Plans: I plan to go to EMU to study either business or sports psychology
Favorite Memory: My favorite memory was convincing Clarence to go polar bearing with the boys at the fall retreat sophomore year.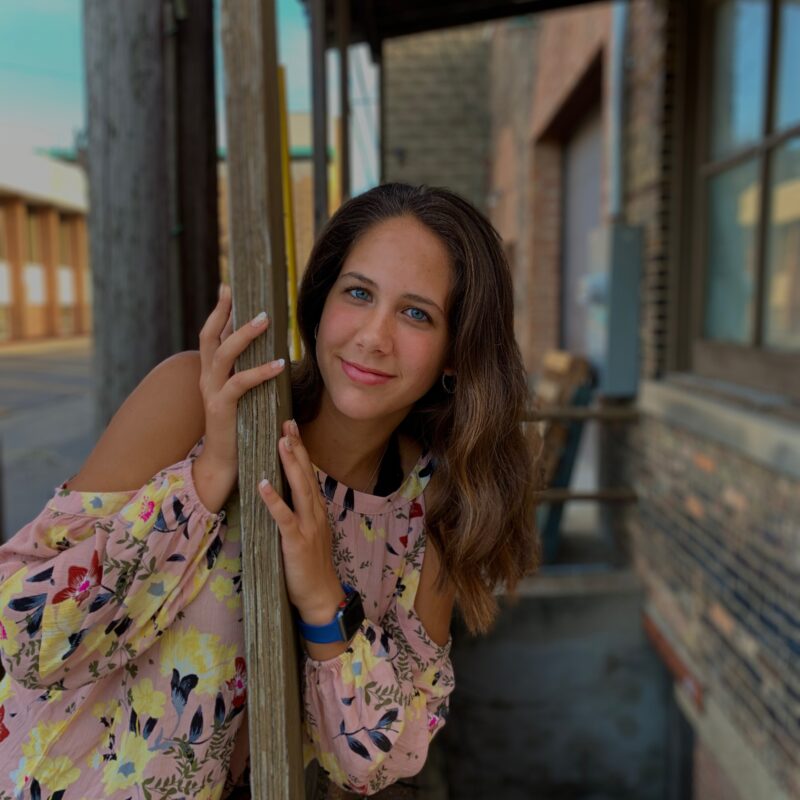 Faith Bontrager
Daughter of Jon and Angela Bontrager
School: Fairfield Community Schools
Fun Fact: I have flexible toes
Activities: Tennis, fsaac, youth group kids teacher, youth group leader
Future Plans: Straight into the work force
Personal Message: Thank you all for all your support and welcoming of open arms. You have helped me grow my faith stronger in the path to God.
Isaac Heyerly
Son of Phil and Kathy Heyerly
School: Westview Community Schools
Fun Fact: I enjoy hunting, fishing, trapping, and playing sports.
Activities: basketball and baseball
Future Plans: I am planning on attending Taylor University for some sort of business degree.
Open House: May 29, 1:00 – 4:00pm at The Farmstead Inn Pavilion 370 S Van Buren St. Shipshewana
Personal Message: I want to say thanks to all of the coaches and pastors that have poured into my life over the past 4 years. It has meant a lot and I am glad that I always had people I could talk to if I needed.
Joseph Hochstetler
Son of Jay & Jen Hochstetler
School: Fairfield Community Schools
Fun Fact: I was born on the 4th July
Activities: Boy Scouts, Baseball, Cross Country, Football, Marching Band.
Future Plans: I plan to go into Cyber Security
Open House: June 4, 4:00 – 7:00pm at 403 Oak Lane, Goshen, IN 46528
Favorite Memory/Personal Message: Tennessee trip was my favorite memory. Thank you Coach Nate for all you have done for the Senior high boys.
Kara McCrindle
Daughter of Sean and Shelly McCrindle
School: Clinton Christian School
Fun Fact: I have a pet Chinese water dragon named Norbert. I'm a member of the oldest bagpipe band in Indiana.
Activities: Volleyball, tenor drummer in the Caledonia Kilty Band, and student council vice president
Future Plans: Purdue for Biomedical Engineering
Open House: May 29, 5:00 – 8:00pm at Maple City Chapel
Personal Message: Thank you to all the youth coaches for the time and energy you pour into our lives. One of my favorite memories is buying and wrapping Christmas gifts for a family in JrHi youth group.
Kyla Blackburn
Daughter of Bill & Mellisa Blackburn
School: Homeschool
Fun Fact: I finished high-school at 15, and college before 18. I currently have two technical certifications in Business Administration and Visual Communications. Age wise I am graduating from youth group. I have 2 cats who hate each other, but love me. I currently work at the Goshen Hospital in the kitchen, I enjoy it. It can be pretty stressful but definitely worth it.
Activities: I currently only really work right now, but in the past I did robotics and photography at the career center. I have done some theater in 2019.
Future Plans: For the time being, I am going to be finished with college as I am not really wanting to do more school. No thanks. Anyways, I am going out to Colorado for the summer to be a camp counselor at a summer camp. After that, I plan on going back to my old job and saving up. Hopefully by the end of 2022 or early 2023 I can rent a place with some of my friends.
Personal Message: When I first moved here from Colorado back in 2018, I did not know anyone. When I started going to youth group I found a small group of people who I really connected with. I have loved seeing everyone grow around me and connecting over the past four years. It has been amazing seeing how well Justin and Morgan integrated into the community here, they have both been absolutely amazing. My youth couches have been fabulous and I am very grateful for them and their support. I am sad to leave, but excited to see where my life goes. If I had anything to tell the underclassmen, or anyone I guess, it would be this: don't be so pressured to find out what you want to do with life. This can be a career, college, etc. I did 2 years at Ivy Tech from ages 16-18, it took a huge mental toll on me and looking back I would probably wait til later. Obviously it's awesome to get ahead, but don't feel pressured to find your life goals too early. It is okay to wait until you are more sure.
Kyree Hood
Son of Nicole
School: Goshen Community Schools
Fun Fact: I like making friends, I love trying to make people happy as it makes me happy, I love seeing people laugh.
Future Plans: I hope to be able to become a psychiatric aide.
Personal Message: I would like to thank everyone at Maple City Chapel, for giving me advice, helping me see what I can become.
Leah Miller
Daughter of Duane & Jodi Miller
School: Middlebury (Northridge) Schools
Fun Fact: I am a coffee lover and enjoy spending time with my friends. I currently work in the Oncology Department at the Goshen Hospital as a Nursing Assistant.
Activities: I was a high jumper in Track & Field for 4 years. I was in the National Honor's Society as well as Student Council. I have taught in Children's Church for 6 years and have been very involved in the youth group here at MCCH.
Future Plans: I plan on attending Indiana Wesleyan University in Marion, Indiana in the fall to pursue Nursing. I hope to be an RN in 3 1/2 years!
Open House: June 18th, 1:00 – 4:00pm at 15256 County Road 28, Goshen
Personal Message: I am so thankful for this amazing youth group that I got to be a part of for the last 6 years. I was surrounded by incredible youth coaches, friends, and leaders to help me become a stronger Christian. One thing that I really enjoyed was the opportunity to be a worship leader as well as a student leader. These roles helped me stretch and grow outside of my comfort zone. Thank you to all of the coaches and Pastor Justin and Morgan for investing their time and hearts into sending us Seniors off stronger in our faith. I appreciate you all and will miss this youth group dearly!
Molly Mounsithiraj
Daughter of T & Jean Mounsithiraj
School: Homeschool
Fun Fact: I have never eaten an olive in my life and never plan on it., I have a dog whom I love with all my heart named Iris. I've never broken a bone.
Activities: I played volleyball and basketball
Future Plans: I plan to attend college and study Behavioral and Social Sciences and would love to be a social worker
Open House: June 11th, 5:30 – 8:30pm at Nappanee Missionary Church pavilion
Personal Message: I grew up at Maple City Chapel and have made some lifelong best friends here. I have always loved the welcoming and loving environment that this church brings and I could not be more thankful for all the youth coaches who have poured into my life throughout junior high and high school.
Sidney Miller
Daughter of Nate & Ann Miller
School: Fairfield Community Schools
Fun Fact: I am good at art, I have played tennis for 4 years, I have been to 14 different states
Activities: Art Honor Society, tennis, 4-H
Future Plans: Going to Grace College for Visual Communions
Open House: June 4, 6:00 – 9:00pm at 18085 County Road 33 Goshen IN
Favorite Memory: Having fun with everyone and hanging out with them.
Sophie Wingard
Daughter of Wayne and Corinna Wingard
School: Fairfield Community Schools
Fun Fact: I am a 10 year member at the Elkhart County Saddle Club. I raise hedgehogs.  I also got the Lilly Endowment Scholarship!
Activities: Volleyball, 4-H Shooting Sports, 4-H Saddle Club
Future Plans: I am going to attend Purdue University in West Lafayette and major in Biology. I will then pursue a Veterinary Medicine degree.
Open House: May 22, 4:00 – 7:00pm at the J Weaver Barn. 15229 County Road 34 Goshen, IN 46528
Personal Message: Thank you to all those who helped out on Wednesdays and to those who led us! Every one of you helped things run smoothly and make our times together more fun and memorable.
Student Coaches are our team of adult leaders who volunteer each week to spend time with students and lead their small groups. Without this team, we cannot complete our mission, so if you would like to learn more about becoming a coach, click the links below to get started today. Thanks for your heart and interest in serving our current generation!
If you would like to help in a more "hands-off" way, you can email Justin to ask how you can still be involved in our ministry.
Student Teams are multiple groups of students who serve in different areas of our student ministry and are led by student leaders. At Maple City, we believe saved people serve people, and this includes students, so we want to raise up students who crave serving and wish to get more involved in their own youth group. Some of our teams include hospitality, tech, worship, and social media.
Student Scholarship is a program intended to enable students to earn money to reduce their cost for mission trips, retreats, etc. Here's how it works: people donate to our Student Scholarship Fund, students volunteer to serve, and then they turn in a signed Student Scholarship slip to receive digital funds. Many students serve in our Kids or Creative Arts Department on Sunday mornings, babysit for church-wide legacy groups during the week, or volunteer at Revive Kids Club in Elkhart. If you would like you or your child to receive text updates for new opportunities, text JHserve or SHserve to (574) 500-2506.
GIVE TO THE STUDENT SCHOLARSHIP FUND
Be sure to select "Student Scholarship fund" under giving type.
WHAT DOES A TYPICAL GATHERING LOOK LIKE?
We meet at Maple City every Wednesday evening at 7:07 to hang out, worship together, hear a teaching, be in small groups, and have fun all around! Check-in starts at 6:30 in the student hallway and then students can connect with their friends, coaches, and small group either in our student café or the recreation room. We then gather together in Teen Haven for a time of worship. From there, we break off into Junior and Senior High for teaching and split into small groups to dive deeper. Our official ending time is 9:30pm.
Small Groups are our intentional time where we break off into groups based on gender and grade to dive deeper into that evening's teaching and discover how it applies to our lives. Each group is led by a couple of adult coaches who create a loving and intentional environment for community and discovery. It is also our goal for small groups to also exist outside of Wednesdays in order to be a relational ministry.
WHAT CURRICULUM DO YOU USE?
We mostly rely on Grow Students, but use a mix of others from time to time. Topics will range from twists on classic Bible stories to living a life like Jesus to dealing with cultural issues, and all teachings have a central Bible passage and a bottom line with real-life application. Everything we do that evening is intentional and contributes to driving the bottom line home so it sticks!
IS THERE A COST TO PARTICIPATE?
No, there is never a cost to come on a typical Wednesday! However, there will be times we host events and go on trips and retreats where there will be a cost. We do not want cost to be a hindrance from a teen's attendance, so we have a Student Scholarship program that any student is welcome to join to help alleviate any costs.
Yes, we strive to create both a physically and emotionally safe environment for all teens. We have a team of adult coaches who undergo an application process (complete with a background check) who supervise your teen. At any given moment, a teen will not be left alone without an adult present. In addition, we have a front desk and security team monitoring the building and ensuring its safety. For events and trips, we have a minimum of a 1:5 coach to student ratio.
HOW WILL YOU COMMUNICATE TO PARENTS?
We want to partner with parents so every parent feels supported and informed. At the beginning of every month, we send out a monthly parent newsletter with everything you need for that month including resources, tips, and keeping you informed about our ministry. We also post frequently to our Facebook and Instagram page. If you are not receiving our updates, please join our Youth Group Parents group on the Church Center app.